A list of classic books in Latin concerning the Blessed Virgin Mary that could be useful for Mariologists (available free online):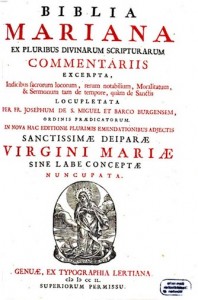 Psalterium Gloriosissimae Virginis Mariae by Ulrich Stöckl (1580). This is from the days when the Hail Mary ended with "fruit of your womb, Jesus Christ," and then they added phrases (usually 3 lines) to this. Each "Hail Mary" was its own prayer with a particular petition or observation. This book has some "warts" of antisemitism, so it is no doubt best that this particular Psalterium vanished into obscurity.
Monita Mariana by Adrianus Mangotius. This book is an example of early Biblical Mariology, since most of the chapters are based on explaining a particular verse of the Old Testament or New Testament relating to Mary, and quoting other parts of Scripture and Church Fathers to interpret it. Included are such verses as Genesis 3:15, Isaiah 7:14, and Jeremiah 31:22.
Maria Deipara thronus Dei by Pietro Antonio Spinelli (1619)
De eminentissima Deiparae Virginis perfectione by Giovanni Maria da Udine (1629)
De eminentia deiparae Virginis Mariae semper immaculatae by Giovanni Battista Novati (1639). This book discusses various attributes of the Virgin Mary in a scholastic format. It covers such topics as the knowledge of Mary, her virtues, her singular perogatives and perfections, her glorious Assumption, her intercession, and devotions to Her.
De affectu et amore erga Jesum et Mariam by Juan Eusebio Nieremberg (1645)
Bibliotheca Mariana by Marracci (1648)
Theatrum Excellentiarum SS Deiparae ex Consociatione Excellentarum Sui Filii by Martinus Philippus Convelt (1655)
Allegationes et avisamenta pro immaculata conceptione beatissimae virginis by Johannes (de Segovia), Pedro de Alva y Astorga (1664)
Monumenta antiqua Immaculatae Conceptionis Sacratissimae Virginis Mariae compiled by Fr. Pedro de Alba y Astorga (1664)
Magnificentia Dei erga matrem suam by Paul de Barry (1675). This appears to be some sort of calendar.
Maria Deipara Elucidata Theologiae Placitis… by Francisco Garau (1688)
Panoplia Mariana: Jean-Baptiste Van Ketwigh (1710)
De immaculata B. Virginis conceptione dissertatio by Giovanni A. de Luca (1739)
Mater Amoris Et Doloris, Quam Christus In Cruce Moriens Omnibus ac Singulis… by Anton Ginther (1741)
Biblia Mariana by Josephum de S. Miguel et Barco Burgensem, Ordinis Praedicatorum (1749)
from Europeana / from Google Books
De immaculato deiparae semper virginis conceptu Caroli Passaglia …, Volume 1 by Carlo Passaglia (1854)